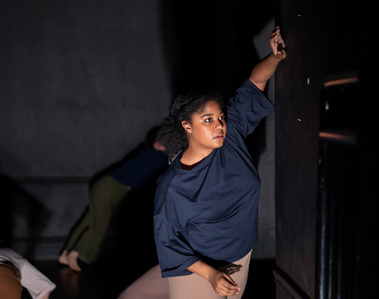 Rebecca Gual
is a movement artist of caribbean descent.
choreographer >> performer >> movement director >> project manager >> arts administrator
nyc
Bio
A Queens, New York native, Rebecca Gual (she/her) is a movement artist, choreographer, project manager and arts administrator. She holds a Bachelor of Fine Arts in Performance and Choreography from California Institute of the Arts.
Rebecca is the Rentals Manager at CPR - Center For Performance Research, a Creative Partner with SLMDances and a Project Facilitator with Pepatián. She has previously held positions at A.I.M by Kyle Abraham, UOVO, Gibney and Roads & Kingdoms. Rebecca was a 2021-2022 artist in residence through the Dance Your Future: Artist & Mentor Collaborative Residency through Pepatián & BAAD!
As a performer, she has had the pleasure to collaborate and perform in works by Ligia Lewis, Andre Tyson, Jessica Lang, Colin Connor, Alexis Zaccarello, Katherine Morales, Glen Eddy, Molly Gorin, Danielle Kipnis, Dolly Sfeir, Tarren Johnson, Nicole Loeffler-Gladstone, Zoe Scofield, Joan Bradford, Karesia Batan, Oroma Elewa, Jacqui Dugal and Sydnie L. Mosley.
Rebecca presents her choreographic works as gual + moves. Select curation, exhibitions and performances include Roy and Edna Disney CalArts Theater (REDCAT), Ailey/Citigroup Theater, Queens Museum, CPR - Center for Performance Research, Triskelion Arts, and LIC Arts Open.
Artist Statement
Bodies can be of the moment and guardians of the past. They contain highways of flowing information, unbeknownst to its inhabitant. A signal is sent, a choice is made and the body follows suit. Do societal pressures force us to ignore genuine triggers? I aim to probe the choices and instincts of the corporeal form, along with the labor of basing autonomy on societal roles. The connections between these expressions has helped me to create a concise, but layered physical language. It aims to answer many questions that I'm invested in exploring. The most important of all: Can one archive the phenomena of movement?